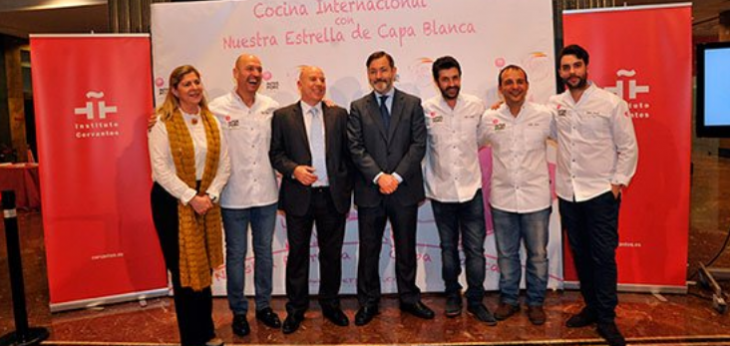 'International Cuisine with our Capa Blanca (white layer) Star'

Six 'Michelin Stars' prepare a recipe book whose star ingredient is Spanish capa blanca (white layer) pork meat.
Entitled 'International Cuisine with Our Capa Blanca Star', INTERPORC showcases the great gastronomic variety and excellent quality of white pig products.
Iván Cerdeño, Kisko García, Íñigo Urrechu, Javier Aranda, Miguel Ángel de la Cruz and Fernando del Cerro are the star chefs who participate in the Interprofessional Organisation's new recipe book.
Madrid, 7 February 2017.- The Interprofessional Organisation of Capa Blanca Swine (INTERPORC) and the Cervantes Institute have presented the 'International Cuisine with our Capa Blanca Star' recipe book this morning. Six of the best chefs in Spain have taken part in this second volume, several of whom have Michelin Stars.

Iván Cerdeño, from 'El Carmen de Montesión' (Toledo); Kisko García, from 'El Choco' (Cordoba); Íñigo Urrechu, from 'Restaurante Urrechu' (Madrid); Javier Aranda, from 'La Cabra' (Madrid); Miguel Ángel de la Cruz, from 'La Botica de Matapozuelos' (Valladolid); and Fernando del Cerro, from 'Casa José' (Madrid), were the chefs responsible for preparing classical, modern and fusion cuisine recipes whose star ingredient is  Spanish Capa Blanca pork meat.

"The white pig not only has a long culinary tradition in Spain but it is also a hallmark of our culture and of our society", INTERPORC stated, encouraging those attending to prepare some of the recipes in the book, as "there are recipes to suit everybody, from beginners to top notch experts".

Along this same line, Rafael Rodriguez-Ponga, general secretary of the Cervantes Institute, also indicated that "one of the missions of the Cervantes Institute is to disseminate Spanish culture and, of course, our gastronomy occupies a privileged place in that culture. One of the elements that increases the reputation of Spanish gastronomy is pork meat."

On his part, Fernando Burgaz, director general of the Food Industry of the Ministry of Agriculture, Fisheries, Environment and Food, highlighted that "the Spanish swine sector has grown considerably in the foreign market over the last few years and it is a clear example of Spanish culture and good gastronomy".

All the recipes in the book have been presented at top class international fairs, from China to Mexico or France, showing the great gastronomic versatility and quality of a product that enjoys deserved recognition. The Spanish white pig is not only a great ambassador for our country, it is also an ambassador of the Mediterranean Diet, in which it plays an essential role.

During the presentation, Iván Cerdeño, who presented his recipe of Gachas (gruel) with Ham and Chorizo sausage, stated that "cooking is made much easier with the capa blanca pork meat as it adapts easily". On his part, Kisiko Garcia offered his Bacon Bun; Iñigo Urrechu, his Pork Cracklings with Baby Squid and Fine Garlic Cream; and Javier Aranda, his Bacon Barbecue, Mussels and White beans.   The star ingredient of all of these delicious recipes is white layer pork meat.